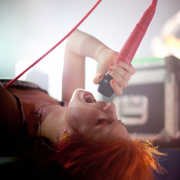 We'll never forget listening to "Riot!" for the first time. Those songs were the soundtrack of our younger years and the guys that made it left a mark on our lives. Now we are a band, they are also such a huge influence for us.
This is our cover of Misery Business, from Paramore! More about us below:
Official Web Site: http://undercoverribeirao.wix.com/undercover
Facebook: https://www.facebook.com/Banda-Undercover-787816577907179/
Instagram: https://www.instagram.com/bandaundercover/
Sound Cloud: https://soundcloud.com/undercover-rock
Songkick: https://www.songkick.com/artists/8623019-banda-undercover

Directed by: Helena and Luiza Nogueira.
Song recorded at: Understúdio, Ribeirão Preto, São Paulo, Brazil.
Video recorded at: Complexo Trio, Ribeirão Preto.
Envie um Comentário